Get rid of roaches without using harmful pesticides. Great for kitchens, homes with small children and pets. 
✔ Get 1 at 30% OFF
✔ Get 2 at 40% OFF
✔ Get 4 at 50% OFF
Simply fill the trap with food. For example, some left over lunch, cookies, bread crumbs, candy, fruit,...
The roaches go inside the trap to eat, but can't get out.
Once roaches are caught, just submerge the trap in water and then throw them away.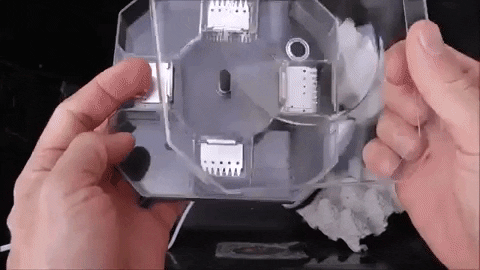 Check Out The Benefits:
No need to keep buying roach spray.

No more harmful chemicals in your home.

Eco friendly for the environment.

Great for homes with small kids & pets.

Say good bye to your exterminator.
Use the Eco Roach Trap in your kitchen, instead of using harmful chemicals around your food.
Product Features:
Chemicals: Chemical Free
Material: ABS, Metal
Color: Black Bottom & Clear Top
Features: Non-Toxic, Reusable
Safety: Child & Pet Friendly   
Tips:
1. Since cockroaches love wet, dark and warm areas, it would be best to place the trap in corners and avoid well-lit areas. Think of placing the trap where roaches frequently appear, such as dark corners, inside the sink and other cabinets, behind cupboards, near the trash can, etc.

2. For bait, use chocolate, cookies, sugar water and cereals as cockroaches like these most. Using what roaches love will likely to get better results.

3. Do not leave the cockroach trap just at one point for a long time. If you find that no roach has been caught in 2-3 days, change the location of the trap or the bait you're using.

4. Once the trap catches a few roaches, do not rush to empty it right away. Let the few roaches remain within the trap as their pheromones will attract others.

5. Set the trap in a flat place and keep all its doors well shut. As long as you have the right bait, the trap is in the right place and you have roaches, you will catch them with this roach trap.
🔴 Due to high demand on social media, this product sells out fast. Click "Add To Cart" to reserve yours now.
We will ship your products as fast as possible. Your products should arrive in about a week. We have several warehouses around the world. Depending on which warehouse your product is in and where your location is, shipping might take a couple of weeks.
1. With Standard Shipping: Please allow 12 to 21 work days for packages to arrive.
2. With Priority Shipping: Please allow 5 to 9 work days for packages to arrive.
3. Once you make your purchase, we will send you a confirmation email.
4. You will also be provided with a tracking number via e-mail.
5. If you order several products in one order, some products might be shipped in separate packages. This is because, some products might be in a different warehouse.
6. Due to different display resolution, lighting and shooting angles, there may be some color difference. Our products normally look exactly how they look on our webpage.
For more information about who we are and how we work, you can read our About Us page.
Thank you for shopping with us :)
You want to return a product? No problem!
At Cool Innovationz, we want you to be very happy with your new purchase. However, if you are not 100% satisfied with your new purchase, you can return the item and get a full refund for FREE.
1. You can return items for up 30 days from the date you purchased it.
2. The item must be in the same condition it was received. If the product is damaged, wrong size or color, you can get a full refund or have a new product sent to you. Please contact us at info@coolinnovationz.com
3. Do not return the product directly to the warehouse. Contact us first by email and we will tell you what address to return the product to.
Our goal: 100% satisfied customers!
Ordering and enjoying products from Cool Innovationz is very easy:
1. Choose the quantity of the product you want to buy, size and color. Then click the "Add to Cart" button. With some products, you can even choose which warehouse you would like the products to be shipped from.
2. A screen will be displayed to confirm the contents of your cart, your product(s) and the quantities you wish to order.
3. Use a discount code if you have one. Become a member to get discounts. Copy and paste or type in the discount code to get your special discount. If you would like to become a member, you can sign up for free.
4. You will see the prices in your local currency. When completing the order, we will show the original price in USA Dollars. The charge at your bank will be in your local currency, and some banks may charge a few cents for the conversion, if you live outside of the USA..
4. Click on the "Complete Order" button.
5. Enter your customer data, select your shipping mode and you will immediately see the amount corresponding to your payment.
6. Choose your method of payment. This ends your order and payment.
If you have any questions, feel free to ask us at: info@liquidsouls.com
Thanks for shopping with us :)